Could we all just wait a hot sec?
Please?
As I write this, my neighbor is putting the finishing touches on his Christmas lights. I want to go out there and kick the ladder out from underneath him.
Halloween was LAST WEEK, dude.
Can we eat some damn turkey before you start spreading illuminated Christmas cheer???
I haven't even put away my Halloween shit yet. For serious. It's all spooky up in here still, with costume accoutrements spread out around the house. Yeah, there's still a witch in my yard. Hold off on the fat guy for a minute, okay?
There is this seemingly inconsequential holiday between Halloween and Christmas. What's that one called again? I never do seem to pay much attention to it anymore, with the costumes and immediate hall decking and all.
Oh yeah. It's called Thanksgiving. It has it's own month, even.
Or at least it used to.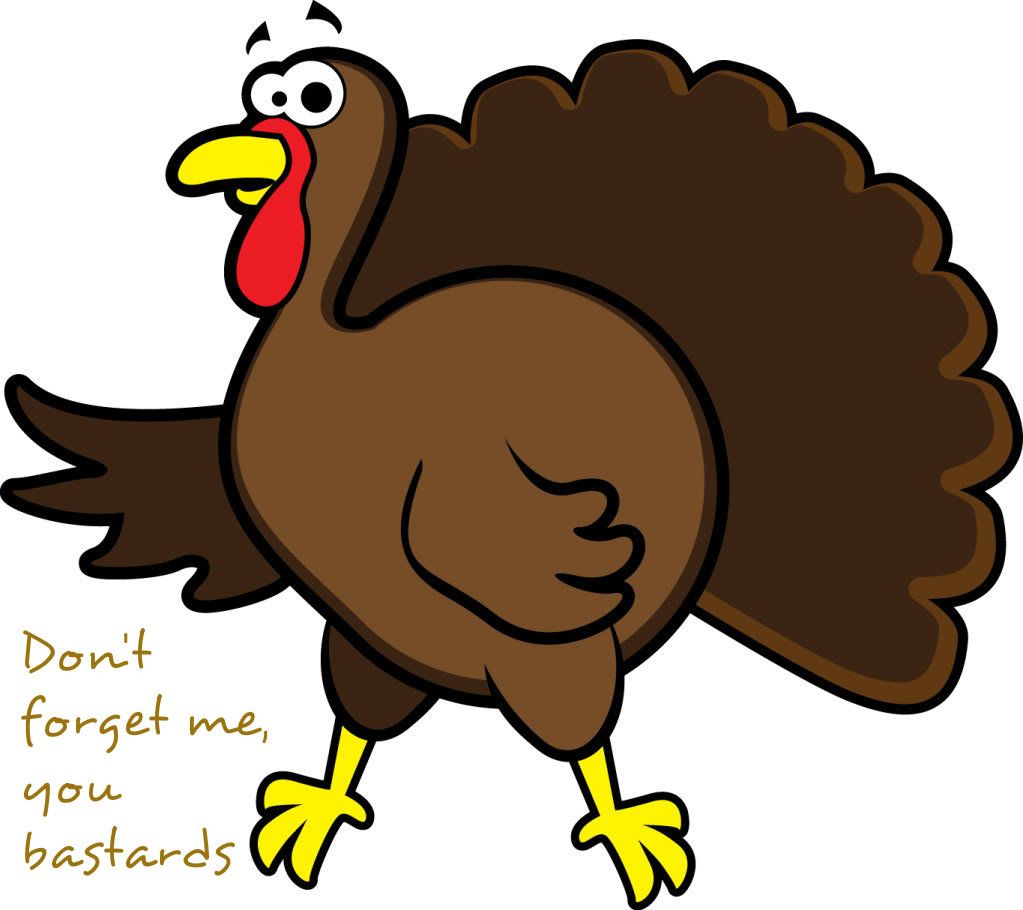 As if being subjected to the 31 days in December plus however many are left in November after turkey day isn't enough, we now have to contend with shit people invented like Christmas in July, and stores full of twinkling lights in October. People putting up Christmas lights two weeks before Thanksgiving.
Christmas is one day, people. ONE day.
Christmas may be in your heart every day, but don't staple it to your roof before it's deemed socially acceptable.
Don't blare obnoxious Christmas songs in stores until after we eat some freaking turkey.
Don't use saving $5 on Christmas shopping as an excuse to eat turkey at 10am Thanksgiving morning so you can trample other people at WalMart.
Don't encourage retailers to open earlier so that you may rob employees of time with their family.
Don't rush what used to be an actual family tradition all it's own.
Don't rush Thanksgiving, don't pass it by like it's just a speed bump on the way to tinsel and shitty gifts.
I want to contemplate brining a turkey for three days. I want to make pies. I want to cook all day. I want to watch football. I want to harass my father in law. I want to teach my kids how to gobble properly. I want to use the fancy dishes. I want to make sarcastic comments about colonization of the "new" world. I want to eat too much and drink too much and unbutton my pants.
I want the quiet pause that used to come before the no-holds-barred-ass-kicking-Christmas-storm.
Let's just wait a hot sec.