Sometimes when you wake up in the morning after a long and emotional night, you just need something to make you smile.
I woke up this morning, not wanting to get out of bed at all, and checked to see if I had any comments to moderate. Such is the life of a blogger, right?
I had a few, one of them from
Happy Little Feet
, informing me that she'd bestowed upon me The Sunshine Award.
I needed that today, thank you. :)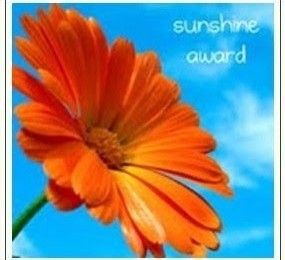 Now, for the rules. There are always rules...
Awardees are supposed to answer the following eight questions, then nominate ten other bloggers.
1. What is your favorite Christmas/holiday movie?
It's a close tie between
National Lampoon's Christmas Vacation
and
A Christmas Story
. I still laugh in all the right places, and they both remind me of my Dad.
2. What is your favorite flower?
For a long time, I would have said it was tulips, but my taste in a lot of things has evolved as I've gotten older. For now, I'd have to say peonies. We can get them in huge bunches at the farmer's market this time of year. Love.
3. What is your favorite non-alcoholic beverage?
Coffee. Hands down.
4. What is your passion?
My family first, writing second.
5. What is your favorite time of year?
Fall. The colors, the chill in the air, the holidays without emotional baggage. I love it all.
6. What is your favorite time of day?
Dusk. The few minutes right before the sun sets.
7. What is your favorite physical activity?
Yoga. Unfortunately, it's too expensive. I've tried doing it at home, but it's hard to find your center and channel inner peace when the kid uses your downward dog as a choo choo tunnel.
8. What is your favorite vacation?
A real vacation is something I haven't had in a really long time, so bear with me. My idea of perfect is sitting on a beach somewhere, toes in the sand, listening to the waves roll in. Over sized sunglasses. A trashy novel. A drink with a tiny umbrella. And not having to worry about anyone else in the entire world. Let's go. Who's coming with me?
Here are the bloggers I've chosen to nominate for this award!
A Lot of Layers
My Owl Barn
We Band of Mothers
The Real Housewife of Santee
Mommy and Love
Nerdy Apple Bottom
Chopper Papa
Big A Little a
Life as Leigh Sees It
Not Blessed Mama