My life just got a whole lot more complicated.
It's March.
It always works out that way, and not just because of my husband's obsession with the NCAA Tournament. For the next few weeks, basketball will just be on the TV all the time. He can't just watch. It doesn't matter how many times I remind him it's just a game. It's not. Apparently. He is an involved spectator with yelling and flailing and shock and awe and all that.
I had to text him the brackets as they were announced yesterday, since I was home with a napping child and he was at the library with the rest of the kids. You know those rules about cell phones and libraries? According to him, there is a
Selection Sunday Exception.
He actually puts the game times into our family calendar.
And no, I'm not kidding.
That's not even the main source of my crazy right now.
Soccer season kicked into full swing last week. Aidan switched from Cub Scouts to Boy Scouts, with the meetings on a different day now. Add in the pressure to finish all the required activities with my Daisy Troop. Sprinkle with carpool schedules, after school clubs, choir and church.
My days are chaos.
I had to sit down yesterday and plan out my entire week.
Mondays are the worst....and not just because it's Monday.
I have to get all the kids home and fed, all homework done, make sure Aidan is in uniform, then get everyone out the door in less an hour and a half for church and Scouts.
Soccer practice days are complicated by carpool schedules that require me to be in two places at once, on opposite ends of town, while driving other people's kids.
Oh, and soccer practice happens like every day of the week. There are the regular practices, then the
hurry up and practice more before games start
practices, then the league coach practices. Goalkeeper training hasn't even started, and I'm not even sure I want to ask what day that will be this season.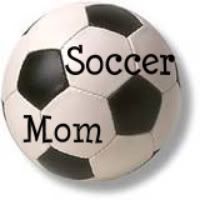 I joke with my eldest daughter that she'd better get a scholarship to college for the amount of time, effort and money this sport is costing us.
No pressure, honey.
My schedule stays this way clear until May, and by then baseball season will have started. The end of the school year is always crazy, this will be more so since I've got a kid graduating. Then we have to start planning the Relay.
I should just kiss my sanity goodbye until July.
If anyone needs me, just look for the crazed woman driving a herd of children around in a beat up minivan. She's probably going to be on edge and hopped up on coffee, so use caution.