If I was smart, I would have waited a week or so to start my silly 30 days of random questions. If I'd have thought it through, I would have extended it so that the next week was included.
I could use mindless amusement.
Tomorrow is my birthday. Normally I wouldn't care a whole lot about it, even though I am officially about to be moved involuntarily from the 18-34 demographic. My birthday has never been a big deal. Mostly because I'm the mom, and no one ever makes a big deal about the mom's birthday.
Which, normally, is fine, truth be told.
I don't need anyone celebrating the fact that I'm getting older.
The thing is, though, that this year is different. It's not different because of what is going on right now so much as because of what was going on this time last year.
There were all kinds of things going on last year.
Some I'd rather forget forever.
Others I wish I could recapture.
The morning of my birthday last year, I was in California. My father was getting weaker and weaker by the moment, but he woke up that morning and put on his happy face. He showered and declared that we were going out to breakfast.
Then he walked over to me, gave me a hug and told me that I'd given him the gift that year just by being there.
Little did I know that he'd be gone only a few days later. I had no idea what the rest of that year would hold for me, and frankly it was probably better that way.
The 34th year of my life is ending today, and I'm really okay with that.
I wanted to take this time to welcome my new readers. To thank those of you who've been here a while. To applaud those of you who've been here from the beginning. And to tell those of you who know the real me and can read into the true meanings of my posts that I love you.
Thank you.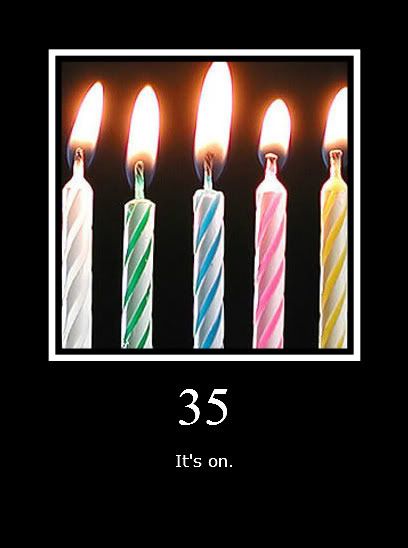 Tomorrow, for me, is a new start.
Happy Birthday to me.