Saturday morning, the Penn State Nittany Lions will take the field for the first time in 45 years without their head coach.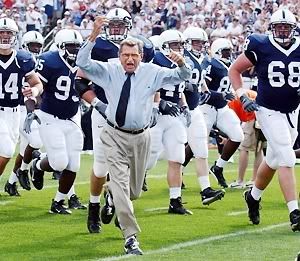 In a scandal that has rocked the college football world, his Assistant Coach, Jerry Sandusky, was arrested this week, accused in the molestation of at least eight boys over the last 15 years.
The carnage has extended far beyond the office of the Assistant Coach. As of this morning, Joe Pa is gone, as is the University President and a handful of other high ranking school administrators.
According to reports, he was made aware of an abuse situation in 2002 by a graduate assistant. Joe Pa in turn told the Athletic Director, but never alerted the authorities. No one else involved at the school did either, even though it appears that several people knew of the situation. Some are accused of actively suppressing it.
It's a sad day in Happy Valley.
And it's a shame.
This man, this legend of football, this constant presence in the heart of this university for nearly half a decade is gone.
I will not today, nor will I ever defend the actions taken in this matter. I do believe that Joe Pa had a moral and ethical, though not technically a legal, obligation to turn in his assistant and friend. I also believe that a huge part of him probably thought he'd done the right thing, by going to his supervisor.
If only that had been enough.
Instead, here we sit today, with the career of a man who in large part made college football what it is, tarnished and over. He is a legend and an icon, who will now be judged for how his tenure ended, not for everything else he accomplished while he was there.
Happy Valley is happy no more.