I made up my mind. I'm not going out shopping on Black Friday this year.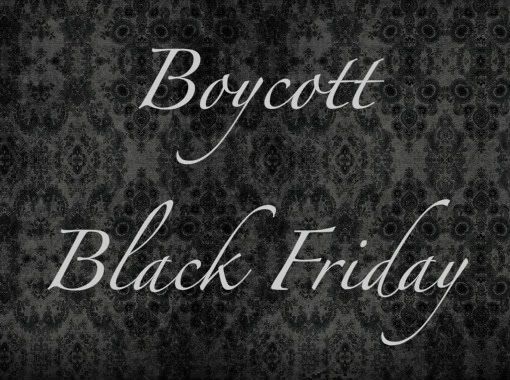 It's not because we suddenly have an unlimited Christmas budget.
It's not because I don't love a good deal.
It's not because the thrill of the hunt is suddenly gone.
It's just that this year is a whole lot different than years past, in a whole bunch of ways.
This year, I have help. All of a sudden, for whatever reason, Tom wants to be in charge of shopping for the kids. He hasn't been for many years. Half the time, he was just as surprised as they were when they opened gifts.
This year, he's calling the shots. Looking for deals. Ordering things online.
We'll go out together sometime before the big day to get the little stuff. Together. Which is weird, but in a good way.
I have one store I plan to buy from on Black Friday, but will do it online.
I have no desire to fight the crowds this year.
It's not worth saving five bucks.
Besides, I'm more than a little bit annoyed with the retailers this year. It seems like every year, Black Friday starts earlier and earlier. This year many have pushed it back to midnight Thanksgiving night.
Having worked in retail myself, I can tell you that this move benefits one group only: the retailers.
It doesn't help the shoppers, who aren't being lured with any more deals than before. Quantities are still extremely limited. The ads that get you in the store hardly are worth it, since they only have a few in stock of whatever is on sale. A few will get the deals, everyone else is left to fight for the scraps. Oh, and to even have a shot at the deals now, you'd better forgo that time with your family. You've got a line to stand in.
It doesn't help the employees, many of whom are now being plucked from the families in the middle of their holiday meals. I've been in their shoes, I know that the amount they are getting paid an hour is completely not worth being forced to show up at work in the middle of the night. Many retailers forbid employees from asking for time off this time of year, and will fire them if they don't show up. This year, lots of them will be required to report at 8pm on Thanksgiving night for a few bucks more than minimum wage.
So if you remove the shoppers and the employees, who is left to benefit from this change?
There's only one answer.
The retailers. Corporate greed. The powers that be, the people making these decisions, they aren't the ones standing in lines desperate to stretch their limited budgets. Instead, they are fooling people into believing that the move here is being made for the benefit of everyone. They aren't the ones being forced to work on Thanksgiving night. Nope. They will be home, with their families, where all the shoppers and employees are supposed to be. They are perfectly capable of buying their kids whatever they want with their over-inflated salaries, and are now lining their pockets with another day of sales.
I'm boycotting Black Friday.
In fact, that term needs to be discarded. Black Friday no longer exists, by and large.
Now, it's just another day.
And another way that the retailers have invalidated a tradition in this country, made Thanksgiving just another day on the calendar. First it was the early decorations going up, then the commercials, then the radio stations playing Christmas music in the beginning of November. Now, they've gone too far, trying to strip Thanksgiving of all it's meaning.
Stay home with your families. Tell the retailers no.
Maybe you'll spent a few bucks more, but maybe next year the retailers will reconsider.
Thanksgiving isn't just a speed bump on the way to Christmas. It's a holiday, all it's own.
I say we take it back.