So I bought this black sweater dress a few years ago with all the best intentions in the world. I was going to wear it and it was going to be awesome.
Don't you hate it how the magic of the fitting room mirror seems to fade the minute you bring something home?
That dress is still sitting in my closet, still has the tags on it.
I even bought leggings to wear with it today. I was going to wear it to Tom's company Christmas party tonight. I has visions of how cute it would all be. And then I put it on.
Turns out that sweater dresses aren't my thing. Shocker, I know.
The look on my husband's face told me that it just wasn't going to work. It's okay though, I already knew what his face was saying.
I'm not that cool. I'm not that trendy.
We both used the excuse that it wasn't dressy enough. Whatever works, right?
I wore
old reliable
, also known as my go-to little black dress.
It's cute and all, very flattering and pretty. I just always end up wearing it. Every time I think I am going to branch out, push the envelope of my personal style, try something new...I end up in the dress.
At least it sparkles. And it does the ladies justice. You women know what I'm talking about.
So I put on
old reliable
. I engaged in the annual curling of the eyelashes. Pulled out the beautiful antique jewelry passed down from my grandmother. Put on the heels.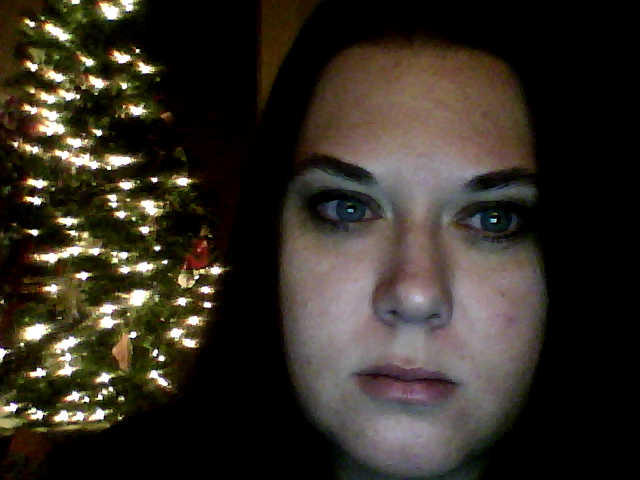 Supposed to be proof that I curled my eyelashes, but it's too dark in here because everyone is asleep.
 I'm not so much in the mood for parties right now. Or fancy. Or associating with other humans in general really. But you gotta do what you gotta do. And tonight, I needed to be fancy.
As we walked into the party, I instantly holed up in the corner with the people I can actually talk to at these events without wanting to gouge out my eyeballs. Then I complimented one of them, a perky, trendy young woman on the adorable sweater dress she was rocking.
She can wear it. I can't.
And I'm okay with that.
My sweater dress didn't do the ladies justice anyway.