I'm a sucker for traditions, and one of them happens tonight. Though we own the movie, nothing substitutes for watching it on TV. I watched it when I was a kid every single year, and mine now love it just like I used to.
It's the Great Pumpkin, Charlie Brown is on tonight.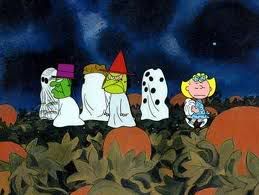 I love all the Peanuts movies. I try not to over analyze the characters too much like the obsessive parents of our generation tend to do. Try not to worry too much about the messages we might be sending the kids by encouraging them to watch these cartoon portrayals of childhood.
I have a particular affection for Lucy....well, because, anyone who's ever known me well knows how much she and I are alike. My brother had a friend who we used to call Pigpen, they were so much alike. I've never known a kid just like Charlie Brown, though I know a few with his tendencies. The poor guy who only "got a rock".
I had friends like Linus, even knew a few to carry their childhood blankets to college. I knew a lot of girls like Sally, completely enamored with their big brother's best friend. And we all know at least one know-it-all like Peppermint Patty.
I knew a few people like Schroeder, who said more with their music than they ever did with their words.
Then there is Snoopy, the genius beagle. And his sidekick, Woodstock.
I remember being a kid and tuning out the drone of adult voices, the wah-wah-wah.
I remember being so short that you only ever really saw the legs of the adults.
I remember the magic of being a kid and watching this short little movie for the first time, wishing I could sit out there in the pumpkin patch with Linus and wait for the arrival of the Great Pumpkin.
Thank you, Mr. Schulz for creating these characters and this story, so deeply embedded in my family's holiday traditions.
I know what we'll be doing tonight.
For more on the movie
Find out what time it airs tonight where you are here...