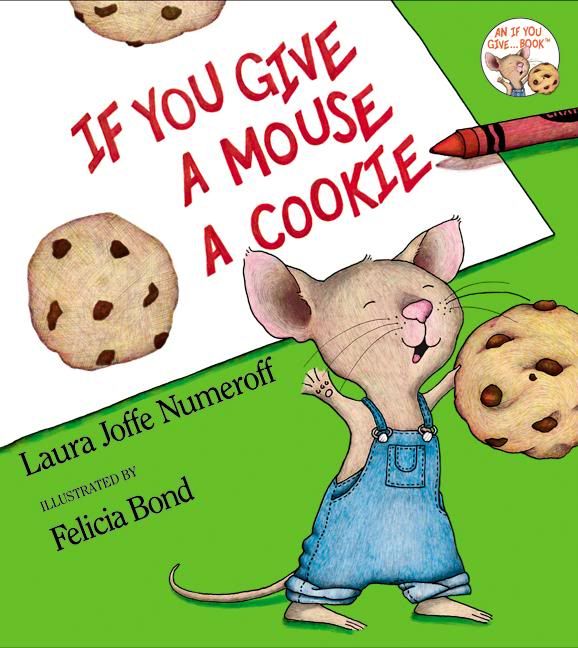 One of our favorite books,
by Laura Numeroff
As I type this, my husband is coming into one of the parks in downtown to hand off his race to a relay teammate.
He's running a marathon.
I am proud of him. He's been training for months leading up to this, and this is the furthest he's ever run in his life.
For the moment, I will try to ignore all the reasons he is not supposed to be running and just be proud of him.
Tomorrow, after the race is over, he will have to decide what comes next. And I feel a bit like he is more similar to the little mouse in this story than he would care to admit.
You see, this little mouse tends to have one thing happen, which inevitably leads to another and so on and so forth until you have an entire book filled with the logical consequences of the action before.
Tom is more than a bit like the mouse, I think. He started playing tennis last year, just as a hobby...but this year he joined a league and entered tournaments. His team made it to the state finals.
He has never in his life been a distance runner (for the aforementioned reasons that I am attempting to ignore), but after volunteering at the marathon last year he decided to run it this year. He's part of a relay team now, but I can see where this will lead. Half marathons. Then full.
Then, gulp, he'll probably want to try a triathon. He'll start with the sprint triathlons, but then he'll move up to the halves. Then the fulls.
Who am I kidding? He is the mouse. Because if you give a mouse a cookie, she's going to want some milk....
And if you give a Tom a sport, he'll want to compete in it. If he wants to compete, he'll have to train. If he completes the race, he'll want to run longer next time.....